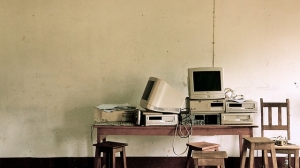 How often does a website need a makeover? This question has many answers all depending on what facet you are referring to. Graphically we at Mohawkhost.com like to think an annual refresh is an excellent way to keep your viewers interested. Somethings may not need adjusting or redoing, like your backend for example. We like to use WordPress and WordPress has been around for years. Currently WordPress is the most popular platform for websites. If you are on an older platform like phpnuke or postnuke then perhaps it is time for a complete website makeover.
Yokoco.com has a very good article on this subject and some of their better points I have shared here:
"Design: Trends Affect Perception
Think about how you dressed in, say, the 1990s. Go ahead, find a photo of yourself in your "cool" clothes. Oh, wait – you burned all those photos? How unfortunate.
Just like fashion changes, design trends also change, and it affects our perception. If you see someone walking around in bell bottoms and a silk shirt, you might assume that they're probably a bit out-of-touch, and stuck in an old-fashioned mentality. Chances are, that's probably an accurate assumption. Alternatively, if you see a website with a hit counter, drop shadows galore and a tiled background, you may think the company who owns has lost touch. You might even think they're out of business. And, hey, with a website like that, it probably won't be long before they do have to close their doors."
This point of view is very interesting and I find it accurate.
"Brand Standards: Supporting Your Identity
Your brand standards define the logo, the fonts, the colors and the visual language of your company. If your brand standards change significantly, it would be a very good idea redo your website – or at least overhaul the design. Sometimes, this may even work backwards, with a new website meaning that you should consider redefining your brand standards."
This is great advice. If you have changed the look of your company then you will want to update your website to match. People will notice if the website is different and may consider it "dated".
"So, what's the best thing you can do to extend your website's lifespan from a development perspective?
Try to use popular, well-supported, open source content management system, like WordPress, Drupal and Joomla."
We at Mohawkhost.com currently recommend the WordPress platform. It is easy to use, SEO friendly and it is currently the number one platform.
If you are looking to do a complete website makeover or simply need a refresh Mohawkhost.com would be very grateful for a chance to quote the job.
Jason
Mohawkhost.com